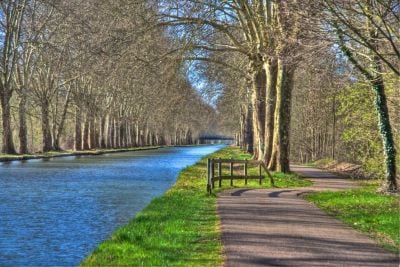 Take a stroll or a bike ride on the stunning river banks of Eschau
Situated in a peaceful location, The Hotel Au Cygne is at the center of a vast network of cycle paths.

1st cycling region in France, Alsace offers 2,500 km of short and long routes with typical villages, vineyards, forests, valleys, ... An exceptional cycling destination!
The cycle path called " La Piste des Forts" :
Accessible 400 meters from the Hotel, the Piste des Forts is a Franco-German cycle route that combines heritage and nature at the gates of Strasbourg: it offers an 85 km route on either side of the Rhine, which takes you Rhine forests of Illkirch to that of Wantzenau, from the hillsides of Hausbergen to the countryside of Ortenau, to the discovery of the 19 works of the "Belt of Forts".
Châteaux and vineyards of the Couronne d'Or:
A very beautiful and long journey that will take you to the new municipalities of the Eurometropolis of Strasbourg to the gates of Molsheim. With the Bruche canal as your traveling companion, discover the castles and gardens of Kolbsheim and Osthoffen, walk along the vineyards of the famous Golden Crown and enjoy the many views of the Alsace plain.

The Canal du Rhône au Rhin:
This section of the Canal is navigable from Strasbourg to Rhinau over 38 km.
For cyclists, the landscaped towpath continues beyond, across the Ried plain and its nature reserve, to Artzenheim: it crosses changing landscapes of meadows, groves and crops, embellished with beautiful breakthroughs the Vosges and the Black Forest. The alignments of centuries-old plane trees and their foliage protect touring tourists from the heat of the Alsatian sun.
The Vineyard of Alsace cycle route:
From Marlenheim to Thann, it will allow you to admire the 51 "Alsace Grand Cru" hillsides.
Here is an overview of the possibilities available to you.